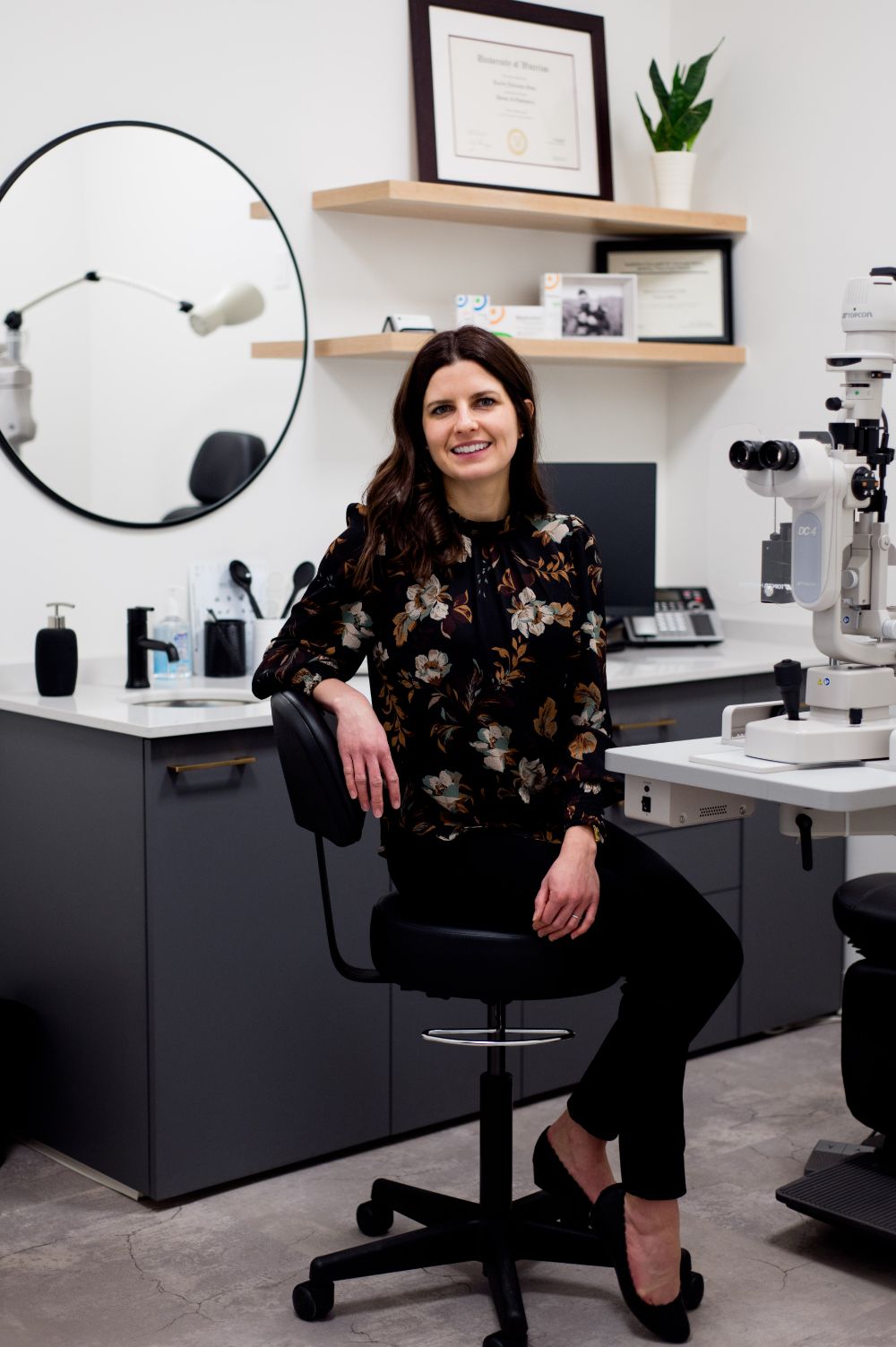 Dr. Karley Guse
Dr. Guse first began practicing in Spruce Grove in 2012 and is excited to be able to open The Grove Optometry.  She has always had a vision of creating a space that not only provides patients with exceptional vision care, but also a space where every patient immediately feels welcomed and knows they will be well taken care of. 
Originally from Manitoba, she studied at the University of Manitoba and graduated with distinction with a Bachelor of Science Degree.  She continued on to complete her Doctor of Optometry Degree at the University of Waterloo, graduating on the Dean's Honours list.
During her optometric training she was fortunate enough to extern at a number of different optometric practices across Canada as well as complete an ocular disease rotation at the Veterans Affairs Medical Centre in Lexington, Kentucky.  This externship focused on the treatment and management of various ocular diseases including anterior segment disorders, dry eye, retinal disease, glaucoma as well as pre- and post-operative care for cataract surgery. 
Dr. Guse has always been very passionate about eye care and promoting the importance of eye health which she has done through community programs here in Alberta and Spruce Grove.  She has also participated in a voluntary eye care mission in northern Peru where she was able to provide eye care to those who would not normally be able to afford or have access to it.  
When not at work, she is busy spending time with her family.  She and her husband have two young children –  born in 2017 and 2020. As a family, they enjoy spending lots of time outdoors, especially taking many trips to the mountains.
Dr. Guse looks forward to continuing to provide exceptional eye care to all her current patients as well as welcoming new patients from Spruce Grove, Stony Plain and surrounding communities.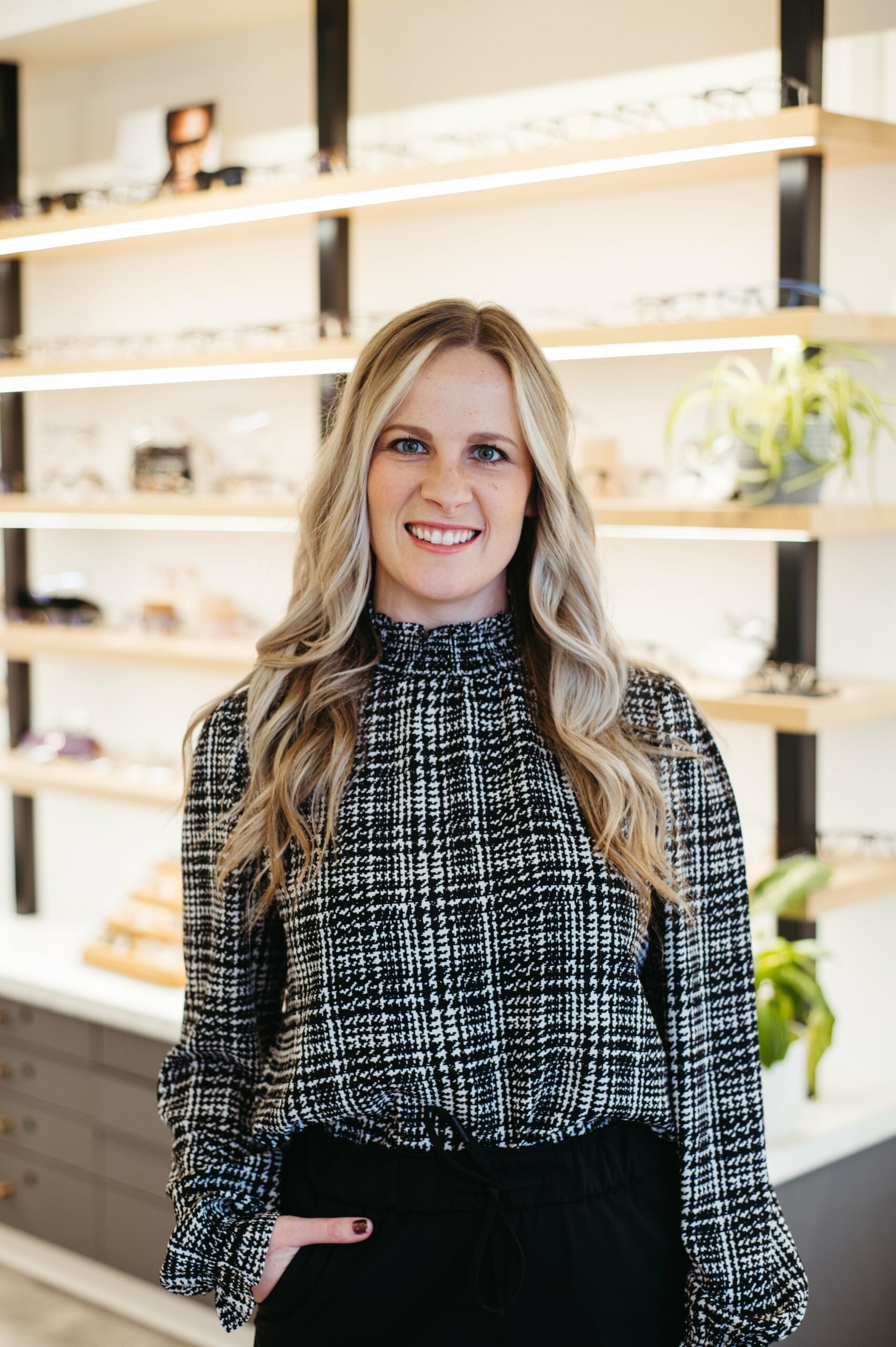 Dr. Amanda Hurtubise
Dr. Hurtubise was born and raised in Sturgeon County. She first received a Bachelor of Science from the University of Lethbridge before moving to Arizona and attending Midwestern University for her Doctor of Optometry degree, where she was given an award for clinical excellence in patient care upon graduation.
During her final year of optometric training, she was exposed to a wide variety of specialties throughout the United States, spending time in Utah, Montana, Arizona and Hawaii. It was at these locations she was able to work with numerous optometrists and ophthalmologists gaining knowledge in ocular disease while working in both the hospital and clinical settings. Her training included scleral and rigid gas permeable contact lenses, glaucoma management, as well as extensive pre- and post-surgical care following cataract surgery and refractive (PRK/LASIK) vision correcting procedures.
During her spare time, Dr. Hurtubise loves travelling, spending time on the lake, camping & hiking in the summer, while skiing & watching hockey (GO OIL!) in the winter. You can always find her hanging out with her Bloodhound ('Ralph'), her friends and her family.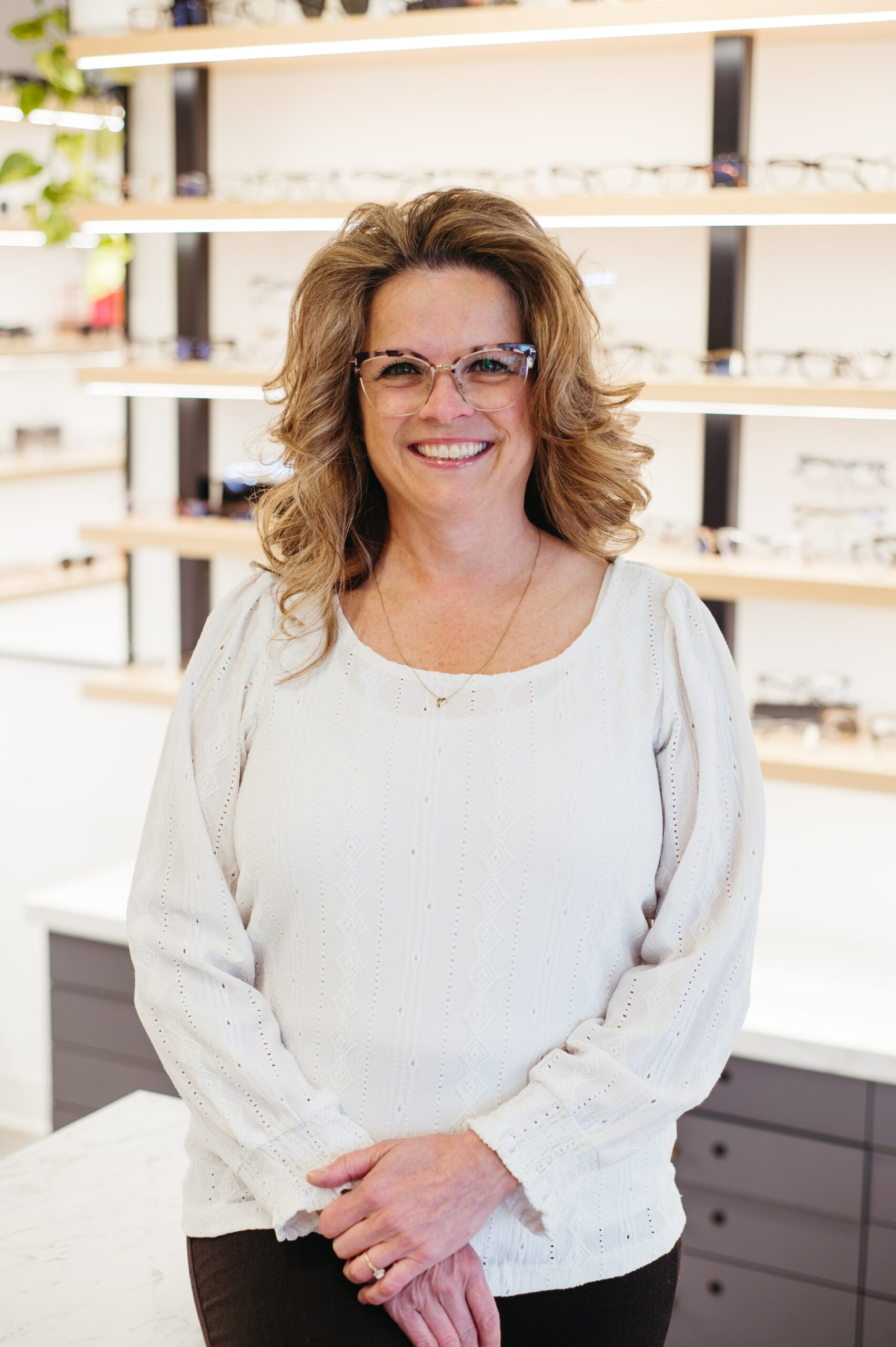 Gina – 
Optician
Gina was born and raised in Grand Falls-Windsor, Newfoundland where she took an interest in the eye business, during a summer student position after graduating high school. She enrolled in the program in 1991 at Georgian College in Barrie, Ontario. She graduated (on the Deans List) with honours in 1993, remaining 7 years to gain experience in Newmarket, Ontario. In 1999 she moved back to the Maritimes to be closer to family and was presented an opportunity to manage a retail optical store, remaining for several years in Nova Scotia. Including management she also dabbled in regional management when she was recruited for a Contact Lens fitting position in a large practice in Halifax. This is where she found her niche working closely with patients and doctors. Her passion is to help people with their vision with glasses and/or contact lenses including training patients on contact lenses. Further to training patients she also enjoys training & teaching new employees about the optical world.
In 2012 she reconnected through social media with her now spouse Billy of 8 years who she met in 1991 through a national 5-pin bowling tournament in Edmonton representing Newfoundland. She remembers the long letters written back and forth for many years. They reside in Spruce Grove and Gina takes pride in helping Billy raise his daughter.
Outside of when she's at work, Gina enjoys nature and all sports such as karate, bowling, curling, baseball (although most are just watching nowadays!). She loves to garden in summer and taking long walks (on beaches where possible) as well as star gaze by a warm fire. In her spare time she likes to be creative with many different types of crafts including collecting seaglass, seashells and driftwood however in Alberta its been creating macrame items and wall tapestries. She loves to explore new restaurants for a great meal but lately its been exploring cooking at home making new recipes.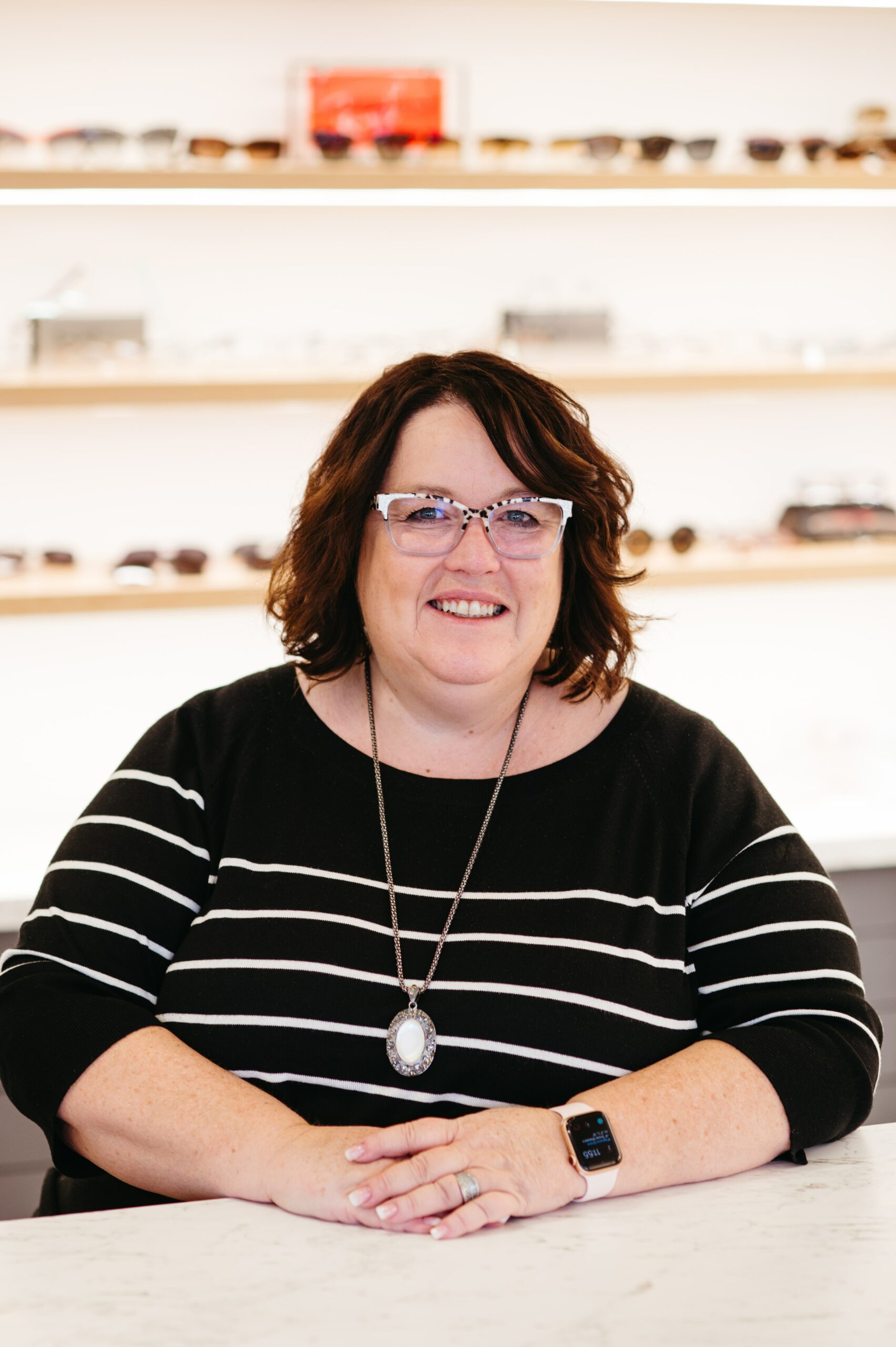 Donna-
Optician
Donna grew up a small town girl in southern Alberta where her family has farmed for generations.  She took a receptionist course through Medicine Hat College and after graduation she moved home to start work as a patient care assistant (PCA) in the Oyen Extended Care Unit caring for seniors, a job she still holds very close to her heart.  After six years in this position, she got married and decided to move to Spruce Grove. At that time, an opportunity became available to start her new career as an optician. 
Donna took her optician's course through NAIT, receiving honours, and was proudly awarded the highest mark in Alberta for year two. Many in the community may already know her, as she has been an optician in Spruce Grove for 30 years! Donna absolutely loves what she does.  She finds it such a rewarding & wonderful experience to witness a little one seeing the world for the first time or helping someone find that new look to make them feel amazing. 
Since joining our team in August 2022, she is really enjoying being an optician at The Grove Optometry. She loves the new challenges and looks forward to learn more about the optometric side of our practice to keep growing in her career. 
When Donna is not at work, she surrounds herself with her beautiful family (husband, Garth, and son, Kael), and many amazing friends. She enjoys hosting a great party to create memories everyone can cherish forever. When relaxation is needed, they love to head out to the lake and enjoy the pontoon, taking Kael and his friends wakeboarding, or sitting around a fire. Donna and her family have travelled to many beautiful places and hope to start travelling again soon!